43° Congreso Argentino de Cardiología
October 19 – 21, 2017   |   Buenos Aires, Argentina
Organized by: Sociedad Argentina de Cardiología
Validación externa de ecuaciones de riesgo cardiovascular en el cono sur de latinoamérica: ¿Cuál predice mejor?
---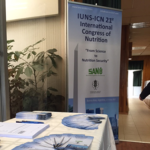 21st International Congress of Nutrition
October 15 – 20, 2017   |   Buenos Aires, Argentina
Organized by: International Union of Nutritional Sciences (IUNS)
Perceptions of price and store availability of fruit and vegetable and their associations with fruit and vegetable intake among adults in four South American cities (see poster)
---
Congreso Chileno de Hipertensión Arterial
September 07 – 09, 2017   |   Santiago, Chile
HTA en el Cono Sur Latinoamerica: Resultados del seguimiento de una cohorte poblacional: Estudio CESCAS
---
IV Jornada de Divulgación Científica sobre Yerba Mate y Salud
August 24, 2017   |   Rosario, Santa Fe
La Lic. Natalia Elorriaga, nutricionista del Centro de Excelencia en Salud Cardiovascular para América del Sur (CESCAS), participó de la VI Jornada Científica de Yerba Mate y Salud, donde contó cuáles son los objetivos de una investigación a su cargo, titulada: "Evaluación del efecto del consumo de mate para reducir el riesgo cardiometabólico en Argentina"
---
2° Simposio internacional de Epidemiología Cardiovascular
December 05 – 07, 2016   |   São Paulo, Brasil
El Dr. Adolfo Rubinstein y la
Dra. Vilma Irazola

, director y coordinadora del Centro de excelencia en salud cardiovascular para América del Sur (CESCAS), presentaron los principales hallazgos del estudio CESCAS I.
---
 21ª Conferencia Mundial WONCA de Médicos de Familia
November 2 – 6, 2016   |  Rio do Janeiro, Brasil
Organized by: World Conference of Family Doctors (WONCA)
Detection and follow-up of cardiovascular disease and risk factors in the southern cone of Latin America: the CESCAS I study (see abstract)
---
XXVº Congreso Interamericano de Cardiología
December 4 – 7, 2015   |  Santiago de Chile, Chile
Organized by: Sociedad Interamericana de Cardiología; Sociedad Chilena de Cardiología y Cirugía Cardiovascular.
Durante el congreso, se llevo a cabo el Simposio CESCAS, donde los investigadores presentaron las principales características del estudio, incluyendo: aspectos metodológicos, resultados de la etapa basal y los primeros eventos reportados.
---
American Heart Association EPI/Lifestyle 2015 Scientific Sessions
March 03 – 06, 2015   |   Baltimore, Maryland
Organized by: American Heart Association (AHA)
Associations of Yerba Mate Tea Drinking With Blood Lipids, Apolipoproteins, and C-Reactive Protein Among South American Adults. (see abstract)
Prevalence, Patterns and Correlates of Physical activity Among the Adult Population of Four Cities in the Southern Cone of Latin America: Results from the CESCAS I Study. (see abstract)
---
 40° Congreso Argentino de Cardiología
October 16 – 18, 2014   |   Buenos Aires, Argentina
Organized by: Sociedad Argentina de Cardiología
Eventos cardiovasculares en estudios poblacionales: primer año de seguimiento del Estudio CESCAS I. (see abstract) 
---
AHA Annual Conference on Cardiovascular Disease Epidemiology and Prevention – Nutrition, Physical Activity and Metabolism (EPI/NPAM 2014)
March 18 – 21, 2014   |   San Francisco, California
Organized by: American Heart Association (AHA)
Relationship among dietary patterns, apolipoproteins, C-reactive protein and other lipids in adult populations in four cities of the Southern Cone of Latin America. (see abstract) (see poster)
---
XXXIX Congreso Argentino de Cardiología
XXIV Congreso Interamericano de Cardiología
October 18 – 20, 2013   |   Buenos Aires, Argentina
Organized by: Sociedad Argentina de Cardiología y Sociedad Interamericana de Cardiología
Prevalencia de actividad fisica y su asociación con determinantes socioedemograficos y factores de riesgo en el Cono Sur de Latinoamerica. Estudio CESCAS I. (see abstract)
Prevalencia, conocimiento, tratamiento y control de la hipertensión arterial en cuatro ciudades del Cono Sur de Lationoamérica. Resultados basales del estudio CESCAS I. (see abstract)
Prevalencia y distribución de determinantes y factores de riesgo cardiovascular en el Cono Sur: Resultados basales del Estudio CESCAS I. (see abstract)
Prevalencia, conocimiento y control de la Diabetes Mellitus en el Cono Sur. Resultados basales del Estudio CESCAS I. (see abstract)
Prevalencia de Síndrome Metabólico en cuatro ciudades del Cono Sur de Latinoamérica. Resultados basales del Estudio CESCAS I. (see abstract)
Prevalencia de tabaquismo en 4 ciudades del Cono Sur de Latinoamerica, Estudio CESCAS I. (see abstract)
---
20th International Congress of Nutrition
September 15 – 20, 2013   |  Granada, España
Organized by: International Union of Nutritional Sciences (IUNS)
Prevalence of Metabolic Syndrome in the Southern Cone of Latin America (see poster)
---
2013 AHA Annual Conference on Cardiovascular Disease Epidemiology and Prevention – Nutrition, Physical Activity and Metabolism (EPI/NPAM 2013)
March 19 – 22, 2013   |   New Orleans, Luisiana
Organized by: American Heart Association (AHA)
Prevalence, Awareness, Treatment, and Control of Hypertension in the Southern Cone of Latin America (see abstract)
Prevalence, Awareness and Control of Diabetes Mellitus in the Southern Cone of Latin America (see abstract)
---
XIII Congreso de la Red Latinoamericana de Epidemiología Clínica (LatinCLEN)
May 23-26, 2012   |   Lima, Perú
Organized by: International Clinical Epidemiology Network "LatinCLEN"
CESCAS I: Estudio de Detección y Seguimiento de Enfermedad Cardiovascular y Factores de Riesgo en el Cono Sur (see presentation)
---
VIII Seminario Internacional sobre los Principios y la Práctica de la Vigilancia en Enfermedades Crónicas y sus Factores de Riesgo
2011   |   Mar del Plata, Argentina
Organized by: Americas' Network for Chronic Disease Surveillance (AMNET)
Promoviendo la Investigación para combatir las Enfermedades Crónicas en Latino América: El rol del CESCAS (see presentation)
---